Email Disaster Recovery Services
Get peace of mind guaranteed with an email failover service.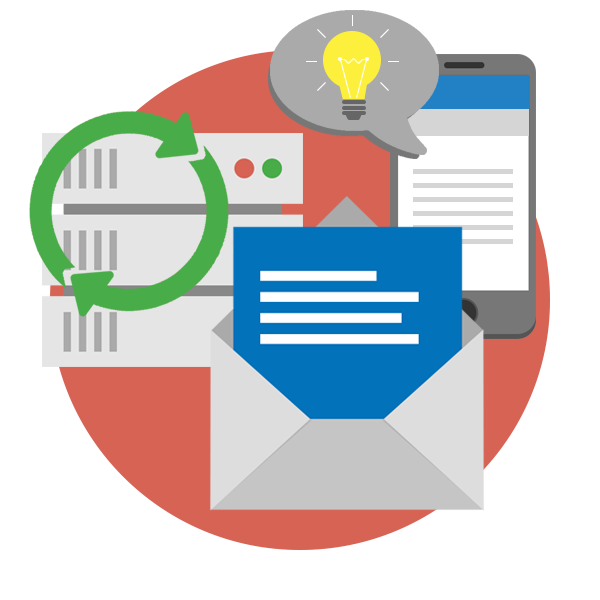 What Is Email Disaster Recovery?
Email is crucial to business communications. In the event of a malfunction or natural disaster, maintaining business continuity often depends on email continuity (a.k.a. Exchange continuity). Your disaster recovery plan should include an email failover option that is independent of your primary email system. Unfortunately, most business continuity plans overlook email failover, or some organizations decide the cost of an MX backup or email continuity solution isn't worth it.
Email Failover Services
Webservio offers mx backup and email continuity services to help you satisfy a critical component of your organization's disaster recovery plan at an affordable cost. If your primary email system goes offline for any reason, Webservio's system will manage all the email sent and received by your employees. When your normal email service is restored, everyone will receive a history of their correspondence without your business missing a beat.
MX Backup vs. Email Continuity Compare these two types of email failover services
What is MX Backup?
An MX backup service will store incoming emails and send them to you when your email system is back online. However, it does not allow you to send and receive emails.
Prevents lost emails and bouncebacks
Stores all emails sent to your company when your normal email service isn't working
Works automatically
Includes email security to filter out blatant spam and viruses
What is Email Continuity?
Email Continuity is a backup email system that allows you to continue receiving and sending emails using your normal email address even when your primary mail system is inaccessible.
Prevents lost emails and bouncebacks
Send and receive emails even when your normal email service isn't working
Works automatically
Includes email security to filter out blatant spam and viruses
Reasons to Have Email Failover
How often has your email been down in the past year? Even a short amount of time can add up to quite a lot of lost productivity, not to mention damaged reputation or lost opportunities when clients, vendors, or leads can't get in contact.
While disaster recovery planning may commonly be associated with weather-related incidents, there are many reasons to implement an email failover solution. In fact, human error and technical malfunction are more commonly the reason that email systems go down. An email disaster recovery solution is essential to maintaining business continuity for unplanned outage and can also be useful for planned downtime to perform maintenance or migrate to a new email system.
Storms, Floods, and Ice - Oh My!
If your email server is located in your office building, it is especially vulnerable to outages and damage due to weather-related incidents. High winds, flooding, and heavy snow or ice can cause an outage of electricity or internet connection at your office location. More extreme events, like hurricanes, tornadoes, and earthquakes can cause catastrophic damage to your office location, potentially taking an on-site email server offline for weeks.
Even if you don't host your mail server on-site, these same types of weather risks can pose a threat to your email system wherever it is located. In addition, even if your email service is online, employees need an alternate way to access it in case the power or internet is out or roads are impassable. Primary and failover email systems should be accesible by employees on their cell phone or at home. Webservio provides disaster recovery options that can be accessed online or via POP/IMAP from any location or device with an internet connection.
Mistakes and Oversights Can Be Costly
Even the best IT managers and systems engineers make occasional errors. Minor technical errors can trigger a domino effect of consequences, and a small mishap can morph into a costly disaster. Protect your business with a reliable email failover service that can step in while the primary mail system is offline.
Nobody likes to make mistakes or be the cause of a costly problem. In addition, it is very frustrating for employees that rely on email service to lose access even for a short time. Therefore, having a failover email system in place also helps protect company morale and keep everyone working productively.
Technical Glitches and Equipment Malfunctions
It is inevitable that at some point, equipment malfunction or breakage will occur within your email system. It is not just the email server that is vulnerable to technical issues. Firewalls, routers, switches, and other equipment can just as easily cause downtime of the whole system. If a part or new appliance needs to be ordered, it could mean days of lost productivity.
Don't let this nightmare happen to your business. A backup email service allows your employees to continue working while your IT team can focus on resolving the cause of the downtime.
Patch, Update, and Educate
Data breaches and network attacks are on the rise, including viruses, malware, ransomware, and denial of service. An effective attack can bring down your email system or even your whole office network. Everyone knows that it is important to regularly install patches, updates, and use an email security service to prevent dangerous emails from ever being delivered. In addition, training and security audits are essential to help employees be more aware and careful. But the reality is that even with all these precautions, a company is still vulnerable. Smart IT managers and business owners plan for every scenario, including the awful possibility of a security breach. An email failover service should be part of every business continuity and disaster recovery plan.
Planned Maintenance and Outages
From time to time, it is necessary for email systems to be temporarily unavailable while system maintenance is performed. This is true whether your email system is hosted in-house, off-site, or in the cloud. Updates can be scheduled for times when employees are unlikely to need email access, but it is essential to still have an MX backup service in place to receive messages sent to your company while the main email system is unavailable. Without this precaution, incoming emails would be lost and senders would get bounceback errors from your company. Having a failover service in place helps protect your company reputation.
Still Not Convinced? Do the math for your company:
While one hour of email downtime may seem insignificant, the intrinsic costs can really add up:
Lost Revenue

- Most businesses receive new lead inquiries, signed contracts, and manage invoicing via email. Missing an important message due to downtime could directly hurt your bottom line.

Lost Time

- Many job roles rely on email to complete essential tasks. If your email service is down, you are paying your employees for time when they could not operate at normal productivity. In addition, IT staff are consumed with resolving the crisis.

Company Reputation

- If a lead or customer gets a bounceback message and can't reach your company, it will make them doubt whether they can count on you for reliable and prompt service.

Miscommunication

- Costly errors and misunderstandings can arise when email service is unreliable or totally unavailable.

Employee Morale

- Trying to do work without email access is frustrating. If the issues are frequent, it can really take a toll on the overall mood of your staff.

Damage Control

- Even when email service is restored, employees may end up spending extra time reconnecting with contacts, apologizing, and sorting out miscommunications.
With all of these factors taken into consideration, the cost of email downtime doesn't seem so inconsequential. For a small company of 20 employees with about $2 million revenue per year, an hour of downtime can easily cost over $5,000. The costs can quickly escalate for larger organizations. Even with that conservative estimate, Webservio's Message Continuity service would pay for itself after only 10 minutes of downtime per year. Do the math and choose the disaster recovery service that's right for your company.
Take the Next Step
---
If you have some questions or you're not sure which email failover service will be the best fit, chat with one of our experienced consultants about your particular scenario.
Talk with us to get peace of mind with a reliable disaster recovery solution.